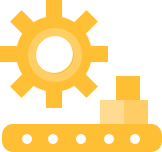 The MEP at Columbus State Team
Jeff Spain, Director
Jeff has spent over two decades at Columbus State Community College, working with Central Ohio employers to plan, develop, and manage hundreds of strategic initiatives, workforce, and economic development projects. In addition to his work with industry, Jeff serves as an adjunct instructor at the College, where his research and practice has focused on applied customer service, leadership, and personal productivity training.
Chaylee Liberator, Assistant Director
Chaylee manages the budget, accounts payable, and accounts receivable for both Columbus State's Department of Workforce Innovation and the MEP at Columbus State, as well as manages operations and logistics for several noncredit programs. She has served Columbus State since 2015. Chaylee earned a B.S. in Life Science Education from Shawnee State University and an M.S. in Integrated Marketing Communication from West Virginia University. Before coming to Columbus State, she was the Assistant Director of Admission at Shawnee State University.
Brent Maurer, Consultant
Brent launched Maurer Solutions – a full-service consulting firm focused on talent acquisition, marketing and communications, and strategy – in 2019. He currently works with Columbus State Community College and the Manufacturing Extension Partnership (MEP) program, as well as The Greater Oh-Penn Manufacturing Apprenticeship Network grant program in Northeast Ohio. Previously, Brent was instrumental in the development of a Talent Acquisition Service incentive for JobsOhio.
Languages: English
Matt Richards, Principal Consultant, Head of Technical Services
With a diverse engineering background, Matt joined the MEP at Columbus State in early 2021. He previously led product and process innovation projects in the food and beverage industry and has held manufacturing and supply chain roles in the automotive industry. His objective is to bring in-depth analysis to the challenges manufacturers face and provide cost-effective, sustainable solutions. Matt holds his bachelor's in Mechanical Engineering from The University of Dayton, accompanied by an FDA certification in Better Process Controls.
Languages: English
Mansour Basheir, Senior Analyst
With international and U.S. engineering and technical experience, Mansour joined the MEP at Columbus State as a senior analyst in summer 2021. Mansour works to identify potential business operations improvement partners and utilizes knowledge of emerging technologies and markets to meet unique client needs. He previously served as a non-credit instructor in the workforce innovation department at Columbus State. Mansour has a bachelor's degree in electrical engineering from the University of Sudan for Science and Technology, accompanied by a Professional Management Project (PMP) certificate. He is currently working toward earning an MBA degree from Capital University.
Virginie Donoghue, Program Manager & Instructor
Virginie previously served as a project manager leading the development of education programs for Ohio manufacturers with PolymerOhio, a nonprofit organization with a mission to accelerate growth, competitiveness, and innovation in Ohio's polymer industry. Now with the MEP at Columbus State, Virginie works with Central Ohio manufacturers to develop targeted classes and educational opportunities, and serves as an instructor for those programs.
Languages: French, English
Maria Santiago, Project Manager
Maria specializes in client relations, with experience in a wide range of industries and roles. She came to Columbus State in 2018, facilitating noncredit programs for Central Ohio employers. Now Maria oversees and coordinates the delivery of technical and leadership training to MEP client organizations.
Languages: Spanish, English
Erica Gladue, Project Manager
Erica works to identify prospective partners within the manufacturing sector and collaborates with the MEP team to deliver custom training solutions to our network.   In addition, she supports various marketing and communications, database management, and client relationship management projects. Erica has a background in non-credit instruction and workforce development.
Languages: English
William Chambers, Specialist
A Columbus State Community College alumnus, William's primary duties are program support and coordination, inventory management, troubleshooting, and contract drafting. Previously, he led technical support for a small web hosting company.
Languages: English
Karen Kyle, Project Manager
Karen serves as the Project Manager for the MEP at Columbus State and oversees all grants in the manufacturing portfolio at the college.  Karen holds a Bachelor of Arts in Interpersonal and Public Communication and a master's degree in higher education and student affairs, both from Bowling Green State University. For more than 20 years, she was the Director of the Student Advocacy Center at The Ohio State University.
Languages: English
Jessi Eberly, Project Manager
Jessi serves as a Project Manager for the MEP.  She has almost a decade of higher education experience with Columbus State.  Jessi holds an Associate of Science degree from Columbus State and a Bachelors of Science degree in Environmental Science from Ohio Dominican University.
David Stein, Adjunct Faculty
David has developed new products for the energy storage and superhard abrasive materials industries. He now applies his experience to translating the engineering challenges that small manufacturers face into projects that satisfy their requirements. David earned his bachelor's degree in Materials Science & Engineering from Carnegie Mellon University, followed by his Ph.D in the same from the University of Pennsylvania. David prides himself on being willing to get his hands dirty to understand how a piece of equipment or process works.
Connect with the MEP at Columbus State
Whether you have a question about the services we offer, or want to work with us, we'd love to hear from you.