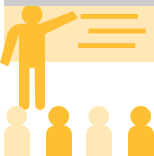 Individualized Training for Your Employees
The Columbus State Integrated Systems Technology (IST) Lab is a competency-based program, blending self-paced online learning and hands-on training with industry-standard equipment. The training is rigorous enough to meet industry needs and is available to accommodate a single employee or your entire team.
We have a number of training modules, or you can choose only the modules your employees need.
Our Certificate Programs
We offer professional training in:
AC/DC Electrical Systems
Programmable Logic Controller (PLC) Troubleshooting
Fluid Power Systems
Mechanical Drive Systems
Process Control
Multi-Craft Technician Training
Advanced Manufacturing Operator Training
e-Learning Program
IST e-Learning Program is a computer-based independent study program that is accessed online at your convenience. After completing their online assignments, students come to the IST Lab for hands-on manufacturing simulation activities guided by industry-experienced instructors.
Connect with the MEP at Columbus State
Whether you have a question about the services we offer, or want to work with us, we'd love to hear from you.