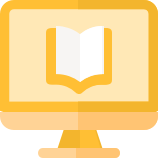 IST e-Learning
The IST e-Learning Program is a computer-based independent study program that is accessed online at your convenience. At set points during the curriculum, students come to the lab to practice new skills and check their knowledge using pre- and post-assessments and assignments. Lab assignments are held in the IST lab during scheduled hours. All students are provided with participant manuals and other materials to complete outside reading assignments, and to use for later reference.
Columbus State contracts with Amatrol, a world-leader in industrial training, to provide e-learning modules.
Benefits of the IST e-Learning program
• Training is convenient to students
• Students can immediately apply their training on the job site
• Columbus State maintains accountability for test scores, attendance, time of training, and students' ability to "test out" of a module
Why use e-Assessment?
• Improves training effectiveness
• Targets training to fill skill gaps
• Reduces time and costs of training
• Reduces downtime and supports production of quality, timely products
• Developed with industry partners for real-world application
• Easy to use with powerful reporting tools
Connect with the MEP at Columbus State
Whether you have a question about the services we offer, or want to work with us, we'd love to hear from you.